Date: Sep 27, 2020
Time: 1:00 PM to 2:00 PM
Description
This event is open to both JLP members and non-members who might be interested in learning more about JLP. This is part of an ongoing series of monthly events that will showcase the wide variety of skillsets that members have exposure to grow and develop. This event will teach attendees the building blocks of home workouts instead of clicking random YouTube videos. The owner of boutique HIIT studio, TruHit Fitness Paradise Valley will break down how to do a safe warm-up, build a HIIT workout for any fitness level and how to customize your cool down as well. We'll be sharing our favorite home equipment, gym timer and sending all participants a PDF of what we learned! It's truly a peek behind the curtain to empower women to create their own content. Attendees should anticipate 20 min of light fitness during the one hour session.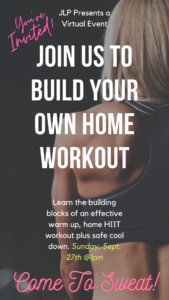 Date Time
Date: Sep 27, 2020
Time: 1:00 PM to 2:00 PM
Other
Register in advance for this meeting. After registering, you will receive a confirmation email containing information about joining the meeting.
Event Contact Email:
Open to the Public?:
Yes
By continuing to use the site, you agree to the use of cookies. more information
The cookie settings on this website are set to "allow cookies" to give you the best browsing experience possible. If you continue to use this website without changing your cookie settings or you click "Accept" below then you are consenting to this.