Description
Join JLP at our Community Partners Networking Night on
April 10, featuring Maisha Christian on "Closing the Gaps"
Through Better Negotiating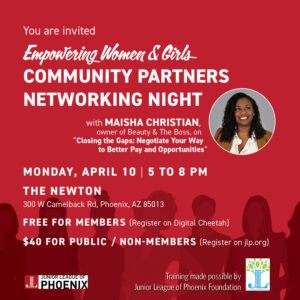 All are invited to join the Junior League of Phoenix's Community Partners Networking Night on April 10 at The Newton from 5 to 8 p.m. The evening will celebrate JLP's new focus of "Empowering Women & Girls" including the announcement of two partnerships with community organizations that will be effective on June 1, 2023.
Highlighting the evening will be Maisha Christian, owner of Beauty & the Boss, as guest speaker and trainer. Maisha's presentations are known to be engaging, educational and encouraging and resonates with all audiences. In her business, she has helped dozens of women negotiate their way to better pay, better opportunities, and more meaningful work.
In alignment with our new focus of "Empowering Women & Girls," Maisha will be speaking on "Closing the Gaps: Negotiate Your Way to Better Pay and Opportunities." In today's workforce, women continue to earn less than their male counterparts, and this disparity is even more significant for women of color. The good news is that negotiating skills can make a significant difference for individuals and their families. In this talk, Maisha aims to inspire and empower women with the knowledge and skills they need to negotiate better pay and access to better opportunities. By the end of the presentation, participants will have a better understanding of the gender pay gap, the importance of negotiation skills, and practical strategies for negotiating better pay and opportunities.
This will be an evening of networking, empowerment, and inspiration!
Registration is required:
MEMBERS – Register on Digital Cheetah here:
https://members.jlp.org/?nd=vms_registration_event_detail&registration_id=4468 
PUBLIC/NON-MEMBERS – Register through this link or the button below:
https://members.jlp.org/?nd=p_vms_registration_event_detail&registration_id=4469