Last Chance to Attend a 2020 – 2021 Information Session!
Are you still interested in joining Junior League of Phoenix for our 2020 – 2021 year? Junior League of Phoenix welcomes a new class of Provisional members every spring. Each applicant is required to attend an Information Session to be considered for Provisional membership.
Only 2 information sessions remain for the 2020 – 2021 JLP year!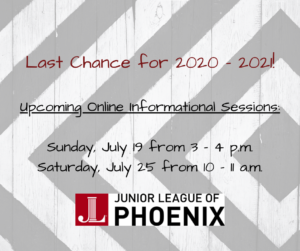 Please sign up for an information session here.
Once accepted into Junior League of Phoenix, the Provisional new member course provides education, training about the structure of Junior League of Phoenix and our role in the community. Provisional members also have the opportunity to participate in League activities, such as volunteer shifts, fundraising events and numerous social activities throughout the year. Successful completion of the Provisional new member course prepares Provisional Members for Active membership, including committee placement the following year.
Total membership in The Junior League of Phoenix exceeds 1,000. Membership is open to women of all races, religions and national origins who demonstrate an interest in and a commitment to voluntarism. Each Spring, approximately 100 women are accepted into the Provisional new member group.
A prospective member must be a woman with an interest in voluntarism, a commitment to community service, and an interest in developing her potential for voluntary community participation.
Prospective members must be at least 22 years of age. There is no maximum age.