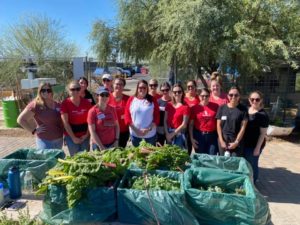 For me, like many, COVID-19 brought a lonely year. A deep desire for companionship, especially female camaraderie, combined with watching so many things happen out of my control during COVID, brought me to the Junior League of Phoenix. I thought this would be the perfect place for service and friendship.
A well-known and well-respected JLP alumni, a small-business owner and a pillar of the community, came to speak to a women's group at the Greater Phoenix Chamber of Commerce. I saw myself in her, and she represented many of the goals I have for my life and my career. She touted her experience in JLP, and said she wouldn't be where she is today without her involvement in the organization. I applied to be a 2021-2022 provisional member the very next day.
Reflecting on my experience as a provisional member, JLP was absolutely the experience I needed to get back on my feet. In my provisional year, I explored many different facets of service, from tending gardens to abate food insecurity and inadequate nutrition, to helping connect members of the Phoenix community with gently used items at JLP's annual rummage sale, to facilitating science learning for kids of all ages, regardless of socioeconomic status. Through this service, I also had the opportunity to meet women from many different backgrounds, including women new to the Phoenix area, stay-at-home moms, women established in their careers, and older women looking to give back to their community. I enjoyed learning from those with different life experiences than me.
Though JLP's credit requirements are intensive, I don't know that I would have had the ability to learn the organization's structure in a year without it. Provisional requirements allow active members-to-be to understand JLP's mission and makeup, while undertaking opportunities for service.
I have heard from active members that "you get out what you put in" to Junior League. I am so grateful that I chose a variety of service areas so that I could experience different facets of JLP and the Phoenix community. One thing that I regret not participating in as a provisional is the Rummage Pre-Sale Party. Rummage was one of my favorite experiences as a provisional, and I wish I hadn't missed out on the opportunity to bond with the women who felt similarly about the event.
Overall, I had a great experience as a provisional. If you are considering becoming a provisional member yourself, I highly recommend "sampling" the different types of service you can participate in–you'll meet new people, and just might find a new service area you love! I am excited to take the lessons I learned into my first active year in 2022-2023!