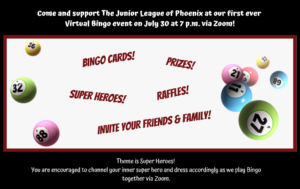 Come and support The Junior League of Phoenix at our first ever Virtual Bingo event on July 30 at 7 p.m. via Zoom! This event is open to the public, so feel free to invite your friends, family, coworkers, etc. Our theme is Super Heroes, so all are encouraged to channel their inner superhero and dress accordingly as we play Bingo together via Zoom. Prizes will be awarded for multiple bingo winners throughout the night giving you multiple chances to say BINGO!! Prizes will range from multiple restaurant gift cards to jewelry to a brewery gift pack! Bingo cards are available for a $10 donation or 3 cards for a $25 donation. You may buy however many tickets you would like! There will not be a limit on how many cards you can play at once. The cards will be emailed to you prior to the event and can be used virtually via computer, phone, or tablet OR can be printed for use! As you will be using your same card(s) to play each round, you may want to print multiple copies if you are using a marker. Please note there are raffle tickets available for purchase as a separate link in digital cheetah! Check out the amazing prizes available to win! You do not have to attend Bingo to participate in the raffle. Feel free to dress to fit the theme Super Heroes (optional).
This is a ticketed event. 1 bingo card = $10 3 bingo cards = $25
No limit on card amounts per person. Ticket sales end 7/29.
We will also be having 5 raffle items and raffle tickets will be available for purchase here through 7/31.
You may purchase raffle tickets for the following prizes:
Raffle #1 – Civana Carefree Wellness Retreat valued at $800 (2 night stay at the resort by 12/31/2020)
Raffle #2 – Mountainside Fitness Membership valued at $624 (6 month membership)
Raffle #3 – Total Wine valued at $500 (wine tasting class for 20 people)
Raffle #4 – Mexican Moonshine Tequila Gift Package valued at $250 (signed album and bottle, CD, and other merchandise)
Raffle #5 – Dream Dinners Package valued at $225 (gift certificate for individual dinners + private party for 10 guests + cooking utensils)
Raffle tickets must be purchased by 7/31 at 8 p.m. and the winners will be announced 8/1 via email and social media!