ROCKETS Teacher Launch Educate to Innovate Conference
On Friday, September 16, 2022, the R.O.C.K.E.T.S committee and the Arizona Science Center CREATE team hosted the Fall 2022 Teacher Launch Educate to Innovate Conference. The conference had approximately 127 teachers in attendance, ranging from Pre-K to 12th grade, from districts across the valley. Ninety percent of these teachers had never attended a Teacher Launch event and 64% of them had never attended a professional development event at the Arizona Science Center. It was exciting to have so many new faces at this event!
The Teacher Launch Educate to Innovate Conference was a day for teachers to earn professional development hours all while networking with colleagues, obtaining innovative content, and engaging in hands-on learning focused on STEM based lessons. The Fall Teacher Launch had 12 specific breakout sessions ranging from themes such as Effective Discourse, Code.org, STEM and SEL and Nanotech. The teachers found the most beneficial aspect of the event was the abundance of resources they were provided with. Coming in a close second was the diversity of the topics offered at the breakout sessions. These teachers were surrounded by new ideas and a variety of hands-on experiences with the goal to help foster problem solving, critical thinking, and exploration skills and elevate the learning experience in the classroom.
The teachers shared that the information obtained from this event will benefit their future teaching, because they can take what they learned directly to their classrooms to help engage and further spark interest in their students (approximately 16,771 students are taught by these teachers). The teachers also expressed their excitement anticipating the next Teacher Launch event, and the inspiration they will find with all the tools, resources and experiences offered by the event.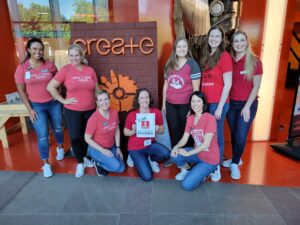 R.O.C.K.E.T.S. TEACHER LAUNCH will return in January 2023! To register, go to https://www.azscience.org/educators/educate-to-innovate-conference/