JLP's Kelly Larsen receives the Junior League's 2023 Rising Star Award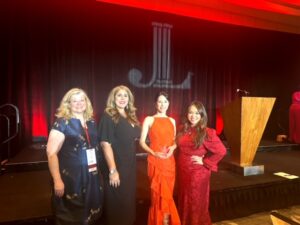 The Junior League of Phoenix, Inc. (JLP) is thrilled to announce that Kelly Larsen, 2022-24 Community Vice President, has been named the 2023 Rising Star Award recipient by the Association of Junior Leagues International (AJLI).
The Rising Star is given to a member who demonstrates significant promise that is consistent with Junior League's mission, vision and values. The award, which recognizes and celebrates emerging leaders from within the 293 independent Junior Leagues in four countries, was presented at AJLI's 101st Annual Conference in Indianapolis, IN.
"We are so excited and proud for Kelly!" JLP President Kelly Kaysonepheth said. "Kelly is a rising star in our League, and we're so excited and proud that AJLI saw this too." Kelly Larsen was introduced by AJLI Immediate Past President Bett Williams who spoke about the selection committee's resounding agreement on Kelly's selection. Kelly was especially recognized for her work in leveraging the JLP's Phoenix Food Day & HealthFest signature program by maintaining its momentum and reach in the community despite the challenges of COVID-19. Now a third-year Active, Kelly is in her two-year term serving as Community Vice President and as a member of the Management Team.
"Kelly has been a tremendous asset to the Management Team and always makes sure that everyone's voices are heard and they are seen," said Ashley Bunch, Executive Vice President. In her current placement, Kelly oversees five community programs and committees. She also serves as a key member on JLP's Community Research & Development (CR&D) Subcommittee that finalized JLP's new community partnerships under the new focus area of "Empowering Women & Girls" that will begin in June 2023.
As a part of the Rising Star award, Kelly was invited to attend AJLI's Annual Conference and was recognized on stage at the AJLI Awards Banquet. Additionally, JLP will receive a grant for additional member training. She was nominated by Kelly Kaysonepheth and Ashley Bunch with endorsements from the JLP Board of Directors.
Congratulations, Kelly Larsen!