Junior League of Phoenix just celebrated our 85th anniversary! Even though our organization has been around for a long time, our work is constantly being updated, newly refreshed and has never been more needed. The value of volunteers to our local community withstands the test of time.
YOU can make a difference by supporting our efforts in the community by your corporate partnership, cash or in-kind donation, attendance at a Junior League of Phoenix event, or purchase of our merchandise.
You may also donate directly to Junior League of Phoenix here.
Junior League of Phoenix earned the GuideStar Platinum Seal of Transparency, showcasing the progress and results we're making toward our mission! Check out our GuideStar profile.
We are proud to share our key metrics with the world and highlight the changes we're making. We want to give donors and funders an alternative to simplistic financial ratios to evaluate us.
We also have a "Give with Confidence" 78/100 rating with Charity Navigator! The Encompass Rating System is a comprehensive evaluation tool that analyzes nonprofit performance based on four key indicators. In July 2021, Charity Navigator released the first indicator, Finance & Accountability, to highlight nonprofit organizations demonstrating fiscal responsibility. You can find our Charity Navigator Encompass rating here.
Our community has selected our organization as one of the 2021 Top-Rated Nonprofits using GreatNonprofits!
"The Junior League of Phoenix is an outstanding community partner! JLP members have been volunteering at our organization, Harvest Compassion Center, every month for over a year. Their volunteers are hard-working, excited to be there and work so well with our guests. Not only do they support HCC with hundreds of volunteer hours, they have also contributed to our operations by hosting food drives and purchasing needed items from our Amazon wish list. The women of the JLP are exceptional and we are so proud that they have chosen to partner with us, it's a true honor." [listed as L Sullivan]
Junior League of Phoenix members use this training to serve on the boards of nonprofit agencies and commissions, advocate on issues of public policy, and organize model community programs that address the most pressing needs such as hunger, food insecurity and more.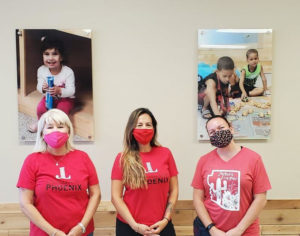 For further information on supporting Junior League of Phoenix, please contact us at 602.234.3388.