JLP's Call For Community Partners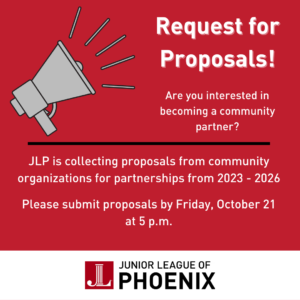 Does your non-profit organization have avenues to improve financial stability for females, improve job prospects for females, or set up females for academic success?
Effective with the start of our 2023-2024 administrative year, Junior League of Phoenix will have a new focused impact area of Empowering Women and Girls to be academically and financially successful. This is a critical need that we believe JLP can effectively address in partnership with other local community agencies.
Beginning June 1, 2023, JLP will commit 80% of our resources to this new focus area. We are seeking out programs to assist us in making a significant impact in this area.
JLP's success in creating, launching, and strengthening programs is based on positive collaborations with our community partners. Within these partnerships, JLP can provide both committed, trained volunteers and funding to help a program move forward successfully; our community partners, in turn, offer our members the opportunity to impact the community and improve their leadership skills.
Would your organization like to be considered as a community partner? If so, we encourage you to submit a program application. Together, our organizations can make great strides in empowering women and girls in the greater Phoenix community!
Click here to download the application. Application deadline is 5:00 p.m. on Friday, October 21, 2022.
Signature Programs
Through our signature programs, JLP continues teaching children and families about nutrition and exercise through our Kids In The Kitchen program. We help spread the love for science to children through our R.O.C.K.E.T.S program, and to their teachers through our annual R.O.C.K.E.T.S Teacher Launch. We also give back to the community and focus health through our Healthfest program.
Focus Area
All people in Phoenix should have access to healthy food and to the information that can help them improve their families' health.  Junior League of Phoenix is Fighting Hunger in the Greater Phoenix Community. The Junior League of Phoenix, along with a coalition of community partners, is working towards a food secure community through access, empowerment and education. The statistics* show a stark community need in this area:
In Arizona, 979,170 people (including 348,550 children) are struggling with hunger
1 in 7 people struggles with hunger
1 in 5 children struggles with hunger
More than 

72%

 of SNAP participants are in families with children
People facing hunger in Arizona are estimated to report needing $482,358,000 more per year to meet their food needs
The average cost of a meal in Arizona is $2.89
Because JLP is invested in changing these statistics for the better, the 2020-23 community programs and partners are focused on reaching out to diverse populations about the importance of nutrition and exercise, and combating hunger issues facing Phoenix. We are proud to announce our newest community partner programs, St. Vincent de Paul and Harvest Compassion Center.
Additionally, our JLP volunteers are making an impact in the community through the JLP Community Impact Projects by investing their time with organizations like St. Mary's Food Bank, Southwest Human Development, Desert Botanical Garden, and the Borderlands Produce Rescue, just to name a few. The above outlined community projects are made possible by the League's fund development efforts: our annual Rummage Sale and our generous sponsors.
With our 1,000+ Active, Provisional and Sustaining members contributing thousands of volunteer hours this year, we believe that "Fighting Hunger in the Greater Phoenix Community" can be accomplished … together.
*Referenced from Feeding America