Join JLP at our Community Partners Networking Night on April 10, featuring Maisha Christian on "Closing the Gaps" Through Better Negotiating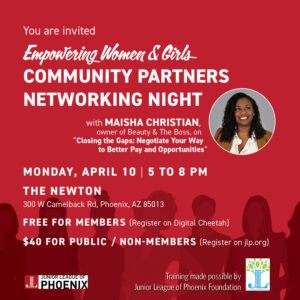 All are invited to join the Junior League of Phoenix's Community Partners Networking Night on April 10 at The Newton from 5 to 8 p.m. The evening will celebrate JLP's new focus of "Empowering Women & Girls" including the announcement of two partnerships with community organizations that will be effective on June 1, 2023.
Highlighting the evening will be Maisha Christian, owner of Beauty & the Boss, as guest speaker and trainer. Maisha's presentations are known to be engaging, educational and encouraging and resonates with all audiences. In her business, she has helped dozens of women negotiate their way to better pay, better opportunities, and more meaningful work.
In alignment with our new focus of "Empowering Women & Girls," Maisha will be speaking on "Closing the Gaps: Negotiate Your Way to Better Pay and Opportunities." In today's workforce, women continue to earn less than their male counterparts, and this disparity is even more significant for women of color. The good news is that negotiating skills can make a significant difference for individuals and their families. In this talk, Maisha aims to inspire and empower women with the knowledge and skills they need to negotiate better pay and access to better opportunities. By the end of the presentation, participants will have a better understanding of the gender pay gap, the importance of negotiation skills, and practical strategies for negotiating better pay and opportunities.
This will be an evening of networking, empowerment, and inspiration!
Registration is required:
MEMBERS – Free to attend. Register on Digital Cheetah here:
https://members.jlp.org/?nd=vms_registration_event_detail&registration_id=4468
PUBLIC/NON-MEMBERS – $40. Register through this link:
https://members.jlp.org/?nd=vms_registration_event_detail&registration_id=4469
This training is made possible by funds from the Junior League of Phoenix Foundation.
Signature Programs
Through our signature programs, JLP continues teaching children and families about nutrition and exercise through our Kids In The Kitchen program. We help spread the love for science to children through our R.O.C.K.E.T.S program, and to their teachers through our annual R.O.C.K.E.T.S Teacher Launch. We also give back to the community and focus health through our Healthfest program.
Focus Area
All people in Phoenix should have access to healthy food and to the information that can help them improve their families' health.  Junior League of Phoenix is Fighting Hunger in the Greater Phoenix Community. The Junior League of Phoenix, along with a coalition of community partners, is working towards a food secure community through access, empowerment and education. The statistics* show a stark community need in this area:
In Arizona, 979,170 people (including 348,550 children) are struggling with hunger
1 in 7 people struggles with hunger
1 in 5 children struggles with hunger
More than 

72%

 of SNAP participants are in families with children
People facing hunger in Arizona are estimated to report needing $482,358,000 more per year to meet their food needs
The average cost of a meal in Arizona is $2.89
Because JLP is invested in changing these statistics for the better, the 2020-23 community programs and partners are focused on reaching out to diverse populations about the importance of nutrition and exercise, and combating hunger issues facing Phoenix. We are proud to announce our newest community partner programs, St. Vincent de Paul and Harvest Compassion Center.
Additionally, our JLP volunteers are making an impact in the community through the JLP Community Impact Projects by investing their time with organizations like St. Mary's Food Bank, Southwest Human Development, Desert Botanical Garden, and the Borderlands Produce Rescue, just to name a few. The above outlined community projects are made possible by the League's fund development efforts: our annual Rummage Sale and our generous sponsors.
With our 1,000+ Active, Provisional and Sustaining members contributing thousands of volunteer hours this year, we believe that "Fighting Hunger in the Greater Phoenix Community" can be accomplished … together.
*Referenced from Feeding America