86th Annual Rummage Sale
Saturday, February 25, 2023
8 a.m. – 12 p.m. $5 admission
1 p.m. – 4 p.m. FREE ADMISSION and all merchandise 50% off
Parking is $10 cash/credit
+++++++++++++++++++++++++++++++++++++++++++++++++++++++++++++++
Arizona Exposition & State Fair Exhibit Building
1826 West McDowell Road
Phoenix, AZ 85007
+++++++++++++++++++++++++++++++++++++++++++++++++++++++++++++++

Each and every year (for almost 90 years!), Junior League of Phoenix has hosted the largest indoor garage sale to generate funding for nonprofit programs.
Our sale has thousands of bargains, including formal dining room sets, patio sets, big screen TVs, bikes of all sizes and types, baby clothes, books, designer purses, jewelry and collectibles, office equipment, even brand-new merchandise, and more!
Proceeds from Rummage benefit local community programs and training sponsored by JLP. As our largest fundraiser, the event brings in more than $125,000 annually.
A special thanks to Fry's Food Stores and Desert Cancer Foundation of Arizona for their generosity. Their funding allows Junior League of Phoenix to offer free mammograms to the first 40 women who present themselves without insurance or insufficient insurance.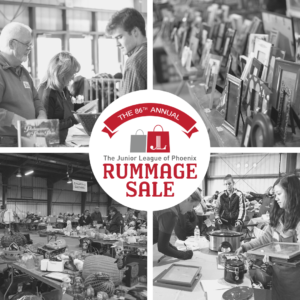 Rummage Departments
Furniture
Art
Lawn/Garden/Hardware
Sporting Goods
New Merchandise
Boutique
Collectibles
Baby Clothing, Accessories, and Furniture
Children's, Men's, Women's Clothing and Accessories
Toys
Books, CDs, and Videos
Plants
Housewares
Lamps and Lighting
Electronics
Linens and Rugs
Jewelry
Crafts
Holiday
Want to Support the Event?
JLP is only as strong as its supporters – and luckily, we have some of the best supporters in the Valley!  Many truly wonderful companies have lent their time, efforts and resources to Rummage and have helped make this event such a success! Please visit our supporter page to view our full list of community partners.
Donations
Are you interested in donating to our 2023 Rummage Sale? We will take many of your leftover items from that last garage sale, redecorating project, or move you just had. Please email jlp.rummage@jlp.org for more information or to schedule a pick-up.
Sponsorships
Are you interested in sponsoring our Annual Rummage Sale? Our Sponsorship Package is linked here.
Please email jlp.rummage@jlp.org for more information.
Advertising
Interested in advertising or covering our Annual Rummage Sale? Please email jlp.rummage@jlp.org for more information.
Getting to Rummage
Arizona Exposition & State Fair Exhibit Building located at 1826 West McDowell Road, Phoenix, AZ 85007