The Junior League of Phoenix depends on the advice and expertise of professionals in the Phoenix area to assist with fundraising, marketing and public relations, community relationships, training, legal and governmental relations. With this need in mind, the Community Ambassador program was developed.
The 2019-2021 Community Ambassadors include: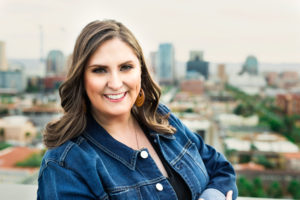 Christy Moore is Founder & Owner of Social Spin, Inc., an Arizona-based benefit corporation connecting communities and providing fresh starts through laundromats. Through her visionary leadership, these underperforming community assets are becoming vibrant social hubs that celebrate arts, culture and community. They're also providing employable skills to people with barriers to employment.
Prior to Social Spin Christy served at the helm of numerous local, statewide and national nonprofits for two decades. Her focuses have included equipping the unemployed and underemployed, empowering victims of violence, protecting women's reproductive rights and increasing civic engagement.
Christy earned her Master of Social Work from UNLV. She is a certified Emergenetics Associate and an AEI Leadership Network Fellow. She received Greater Phoenix Chamber of Commerce's Athena Young Professional Award, ONE's Organizational Accomplishment and Innovation Award, YWCA's Advocacy Award, Phoenix Business Journal's 40 Under 40 Award and National Association of Women Business Owners' Business Impact Award for Social Spin. She proudly serves as a Community Ambassador for the Junior League of Phoenix.
She and her husband Mitchell have been pursuing passions together for over a decade, and love being an Auntie and Uncle!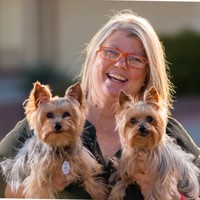 Susanne Patterson / ​sue@arizonahomesalesbysue.com​ / 602-284-8123 / REALTOR® @ EPIC Home Realty, a Residential Real Estate company located in the Phoenix metro area.
I am a REALTOR® that specializes in residential sales. Located in the Valley of the Sun, aka the Phoenix metro area, I service all of Phoenix, Scottsdale, Paradise Valley, Peoria, Surprise and beyond.
How I can help you:
Provide first time home buyers the tools to navigate the process of purchasing their first home
Advising sellers on the value of their home, provide a complimentary market analysis
Negotiating the best deal for you
Advocate for you throughout the transaction
Follow me on ​Google Business​, ​Facebook​, ​Instagram​ and ​LinkedIn
For more information on selling or purchase a home, give me a call at 602-284-8123.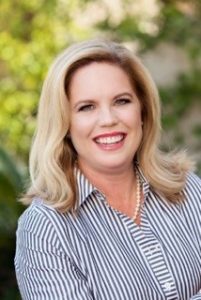 Andrea is the Publisher of Frontdoors Magazine – a publication company dedicated to celebrating the people and groups who give generously and work to build the future of our community. Frontdoors content is delivered through several platforms, including Frontdoors Magazine each month, The Knock newsletter each week, FrontdoorsTV with Carey Pena and the annual Tax Credit Giving Guide.
Prior to the acquisition of Frontdoors, Andrea was the Principal of Event Planning for Evans Communications. Andrea launched her event consulting business in September 2003, following a successful career as the event planner for two of the Valley's largest nonprofit agencies. She has served as a political fundraising expert as well, with a distinguished list of clients on the local, statewide and national level.
Andrea is a proud Arizona State University alumni and a graduate of Valley Leadership Institute. She volunteers with a number of nonprofit organizations that help women, children and the arts in our community. Andrea is married to Tom Evans and mom to Thomas, Ellie and their rescue kitty, Sally.
When Sean is not hustling along, bleary-eyed as he takes his four young children to school each morning, he serves as the 5 PM news anchor for CBS 5 and the news/weather anchor for 3 TV News at 10. He has served the Valley as a broadcaster and community volunteer for over 25 years. Career highlights include his stint as MSNBC's main meteorologist and Sunday weather anchor on NBC's "Weekend TODAY Show." Sean also has the distinction of anchoring weather on two network weekday morning broadcasts, filling in for Al Roker over 90 times from '04 to '06 on NBC's iconic "TODAY SHOW." He also served as a fill-in meteorologist on "The EARLY SHOW" on CBS from '06- ' 12. He has covered multiple Olympic Games, Super Bowls and is now a ten-time Emmy award winner for news and weather anchoring. He also maintains his Broadcast Seal of Approval from the National Weather Association. But Sean is reminded daily that the real star of the family is his amazing wife Emily, whom he met at the Birds Nest of the '95 Phoenix Open. A true Arizona love story.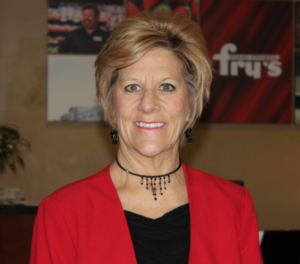 Pam Giannonatti has been an associate at Fry's Food Stores for more than 36 years. During her tenure with Fry's, she has held several positions throughout the company – from bagging customers' groceries and training future leaders to helping Fry's make the communities it serves a better place to live and work in.
Her company's purpose is to Feed the Human Spirit and she follows this daily. As the Kroger Corporate Affairs Manager for the Fry's division, she builds strong relationships with our Arizona community, working hand-in-hand with non-profit groups and other partners to make a difference. Pam is an avid volunteer, leading many of Fry's volunteer efforts such as serving meals at the St. Vincent de Paul's Family Dining Room, filling emergency food boxes at local food banks, having fun with the athletes at Special Olympics Arizona Summer Games and participating at Arizona's American Cancer Society Making Strides Against Breast Cancer events.
As an active community leader, Pam volunteers with a wide variety of organizations and is a member of the board of directors for Big Brothers Big Sisters of Central Arizona, a community advocate for the Junior League of Phoenix, and a member of the advisory council for Special Olympics Arizona, and USO Arizona. She works closely with the state's Feeding America food banks, supporting Fry's/Kroger's Zero Hunger | Zero Waste initiative. She also is a proud Valley Leadership alumna and remains involved with their annual Man and Woman of the Year luncheon.
In 2016 she received the Amazing Rewards, AMAZING WOMEN recognition from National Bank of Arizona and Phoenix Suns and a Certificate of Appreciation for being a Community Ambassador for the Junior League of Phoenix and USO Arizona. She was honored to receive an "Above and Beyond" award from Fry's Food Store's President. It is one of the highest honors the company bestows.
While this is all very important to her, her true pride and joy and most important role in life is caring and being with her family. Being married to her husband Mark nearly 35 years and being blessed with four lovely children and three beautiful grandchildren. Day in and day out, Pam's heart is always where it needs to be, with her family.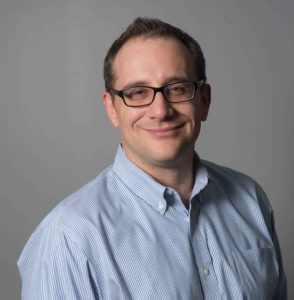 Jayson Matthews is currently the Vice President of Community Impact for the Valley of the Sun United Way and has been with the organization since September 2014. Jayson has over 15 years experience of nonprofit management and systems change with a specialty in food insecurity and housing. Before joining the United Way, Jayson served as Executive Assistant to former Tempe Mayor Neil Guiliano, as the Assistant Director and Chief Program Officer of Tempe Community Council, and as the Chief Development Officer for United Food Bank.
Jayson earned a Bachelors of Arts in English Literature and Political Science from the University of Arizona in 1999 and a Masters in Public Administration from Arizona State University in 2003.
He is a fierce advocate f or human services and public service and demonstrates this through his volunteer work on various municipal boards, commissions, and nonprofit boards in Phoenix and Tempe. In his free time, he enjoys going on adventures with his dear wife and partner Emma.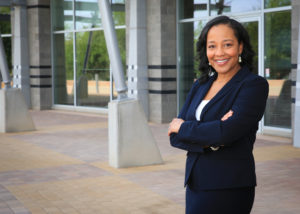 Ms. Branscomb Wilhite is the owner and operator of Branscomb Wilhite, a general practice law firm, and she is a trained mediator. Prior to her current position, she was the Director of the Homeowner Advocacy Clinic/Project and Professor of Practice at the Sandra Day O'Connor College of Law, where she trained and supervised second and third year law students.
Monique Branscomb Wilhite is also the Executive State Director of the Mrs, Miss, Miss Teen, Pre-Teen and  Princess Arizona International Pageants, USA, and served as Mrs. Arizona International in 2014 where she promoted Heart Health and the Halle Heart Children's Museum.
Ms. Branscomb Wilhite previously served on the Board of Directors for the American Red Cross, Trellis (previously Neighbor Housing Services of Phoenix) and New Destiny Christian Church. She was a state wide officer with the State of Arizona's Young Lawyer's Division and a national officer with the American Bar Association's Young Lawyer's Division.  She also hosted a nationally televised show for children entitled "The Home Empowerment Show."
Earlier in her career, she was a legal intern for Senator John McCain, served as a Maricopa County Attorney, a Maricopa County Legal defender, and a federal Criminal Justice Act Panel member.  She has tried over 300 cases in city, state and federal court and has argued, on several occasions, before the 9th Circuit Court of Appeals.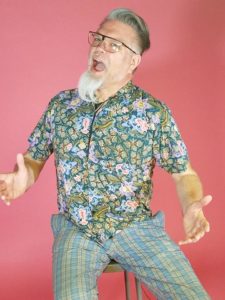 Marshall Shore is Arizona's Hip Historian or Hipstorian who specializes in finding and sharing the most interesting bits and curiosities from our past: the semi-forgotten people, places, and events that have made us who we are today.
As the official "Unofficial Arizona Historian," Marshall uses storytelling magic, found film footage, old photographs, sound recordings, ephemera, and artifacts to bring our history to life in his entertaining and educational presentations.
Best Spectacled Phoenix Celebrity
Twitter: InfoCurator
Website: marshallshore.com
Contact #: 602.373.5421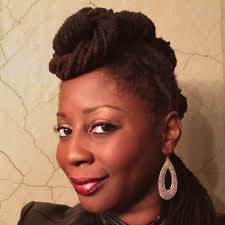 Kenyatta Turner, MM is a Behavioral SuperPower Coach, Consultant, Motivational Educator and Speaker.  She is the owner of Freedom Empire Consulting, LLC, where they Coach, Influence, and Protect their clients around the world.  She also serves as the Director of Strategic Partnerships and Community Engagement and for DreamSmart Academy.
She is an enthusiastic professional with extensive qualifications in educational leadership acquired through 20+ years of experience and success as a Director of Admissions, Assistant Director of Career and Student Services, Instructor, and various other roles at colleges around the valley.  Having obtained a Master's degree in Management degree and a Bachelor of Science degree in Computer Information Systems, Kenyatta is a creative, yet analytical thinker with an unshakeable commitment to helping those around her to flourish throughout their personal, professional, or educational journeys.
As a Small Business & Group Benefit Specialist for LegalShield, Freedom Empire Consulting, LLC has the freedom to protect families and small business owners with access to quality, affordable legal service plans, along with identity theft protection and restoration services. While building her brokerage, she teaches others to build their own businesses. Kenyatta transfers her passion for education into a passion for educating others about resources and opportunities that help them to "Worry Less. Live More."
Being an avid volunteer, Kenyatta has served for many years as the Vice President and Membership Director of the Seventh Avenue Merchants Association.  She also gives back to the community by volunteering as a Workshop Facilitator at Fresh Start Women's Foundation and a mentor to the Young Entrepreneurs Academy, including involvement at the Central Arizona Shelter Services.  She enjoys playing bass guitar, hiking, travel, reading, live music, art, karaoke, and spending time with family, friends, and her beloved Rottweiler.
Connect with Kenyatta on LinkedIn at https://www.linkedin.com/in/kenyattaturner/
The 2019-2021 class of Community Ambassadors exemplifies leadership and expertise throughout the Valley.
The Junior League of Phoenix is excited to be working with such a strong leadership team that will provide guidance, expertise, and support throughout their term.
Interested in becoming a Junior League of Phoenix Community Ambassador?  Request more info by emailing jlp.president@jlp.org.