Congrats to ATHENA Award Nominee Cathy Brown!
Congratulations to Junior League of Phoenix Active member Cathy Brown, on her ATHENA Award nomination!  Cathy is the regional director of First Things First and  "when families are strong, communities thrive" is her motto. Her passion to improve the health and welfare of women and children is a common theme throughout her professional career.
From Peace Corps volunteer to community partnership manager to regional director for the Gila River Indian Community, Cathy's focus is to build community capacity and sustainability around health and education.
The ATHENA Award, an honor presented internationally, recognizes exemplary achievement and challenges its recipients with a continued sense of responsibility, support and leadership. The ATHENA Award honors women who have consistently invested in their profession, their community, and, especially, other women. They demonstrate inspiring leadership within their industry, have mentored women throughout their career, and have dedicated themselves to the community through various activities and charities.
The mission of the ATHENA Award program is "to become the foremost agent of change by helping individuals and organizations open doors of leadership opportunity to women." That philosophy of leadership has been a call to action for Valley recipients after they receive this prestigious honor. Often, they are asked to donate their time, talent, and leadership skills to our community. Examples of involvement may include speaking engagements, acting as a spokesperson for the ATHENA program, writing guest editorials, mentoring future leaders, and continued participation in the Chamber's ATHENA program.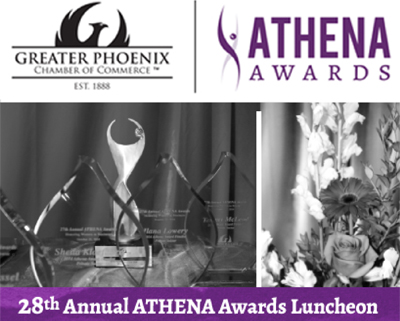 Who is an ATHENA?
An ATHENA recipient must meet three specific criteria:
• Mentorship: assists others (both internally and externally) to reach their full leadership potential
• Leadership: demonstrates excellence, creativity and initiative in their business or profession in the Greater Phoenix area
• Community Service: provides valuable service by devoting consistent and continuous time and energy to improve the quality of life for others in the Greater Phoenix community