As the school year comes to a close, many educators, families, and students are looking forward to summer days. However, it's important to remember that the close of school also often means the end of nutritious breakfasts and lunches provided in schools and classrooms across the country.
Unfortunately, for many of our nation's children, no school = no lunch.
To help prevent summer hunger, nutrition programs have invested energy and resources to help increase participation, raise awareness and help more people find Summer Meals near them.
Help spread the word. Share this with your friends on social media to help more people find Summer Meal locations in their community.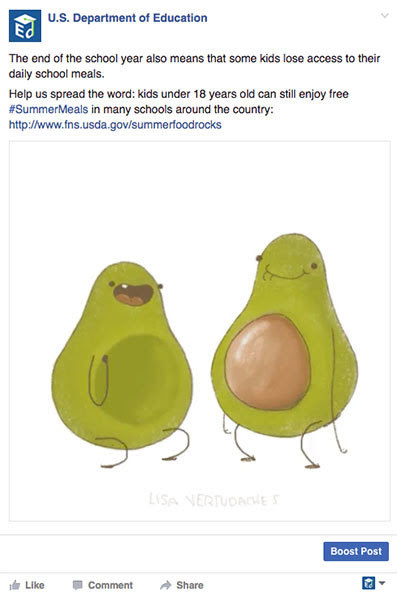 Share in ENGLISH        Share in SPANISH
During the school year, more than 21 million children receive free and reduced-price meals, but only about 1 in 6 of those students participate in the summer meals programs. That is the critical gap that the summer meals programs work to fill. For many students, school meals provide for over half of their daily calories during the academic year, which means that ensuring these children have access to healthy food—including over the summer—is a big priority for their growth and development.
Research confirms that food insecurity can impact young children's cognitive health and can contribute to poorer school performance, a greater likelihood of illness, and higher healthcare costs. This program makes it possible for any child under the age of 18 to visit a designated summer meal site and eat for free.
After sharing with your friends on social media, take a moment to forward this information to friends, peers, schools or organizations who can also help promote summer meals. Visit http://www.fns.usda.gov/tn/summer-food-summer-moves to find additional helpful resources. 
Families can also identify nearby sites by calling 1-866-348-6479 (English) or1-877-842-6273(Spanish) or using a text service operated by a USDA partner by texting FOOD (English) or COMIDA (Spanish) to 877-877.
By working together with families, local schools, and private organizations, we are helping to make sure that children can easily get the nutritious meals they need to be healthy and ready to learn all year long.
Thank you for your help in keeping our communities healthy and happy this summer.