Taking Photos at the 79th Annual Rummage Sale (and pre-party!)
In our day to day lives, we tend to capture moments through pictures to share and look at in the future.
The 79th Annual Junior League of Phoenix Rummage Sale should be no different. On the eve of sale, we thought it would be a great blog post on the importance of picture taking and how we can utilize your Rummage photos in the future.
We use Rummage photos to generate excitement and advertise to the community what Rummage is and why they should attend. Next year is the 80th anniversary of hosting Rummage, and we really strive to have a collection of fun photos that tell our story to use throughout the year.
What are we looking for? Below are a few key bullet points to keep in mind during your picture taking:
We need a lot of pictures. Even if you feel like you're taking the same photo multiple times, keep making copies. You never know when one might be blurry, out of focus, or have poor lighting.
Think about the story you're wanting that photo to have, and that should be the focus of the image.
Angle yourself when taking the photo to showcase it in the best way possible (i.e. take photos with a lot of shoppers to tell the story of how much Rummage Sale helps the community or photos that really encompass how many items and the variety JLP has for sale)
When taking photos of groups of people, make sure everyone looks like they are having fun! Enthusiasm and smiles go a long way when advertising an event.
If you have photos of the Pre-Sale Party and Rummage sale you want to share, please post them to the Junior League of Phoenix members facebook group, or to the Rummage sale event page.  We look forward to seeing everyone's fun photos from Rummage! #HappyRummaging #redtoprummage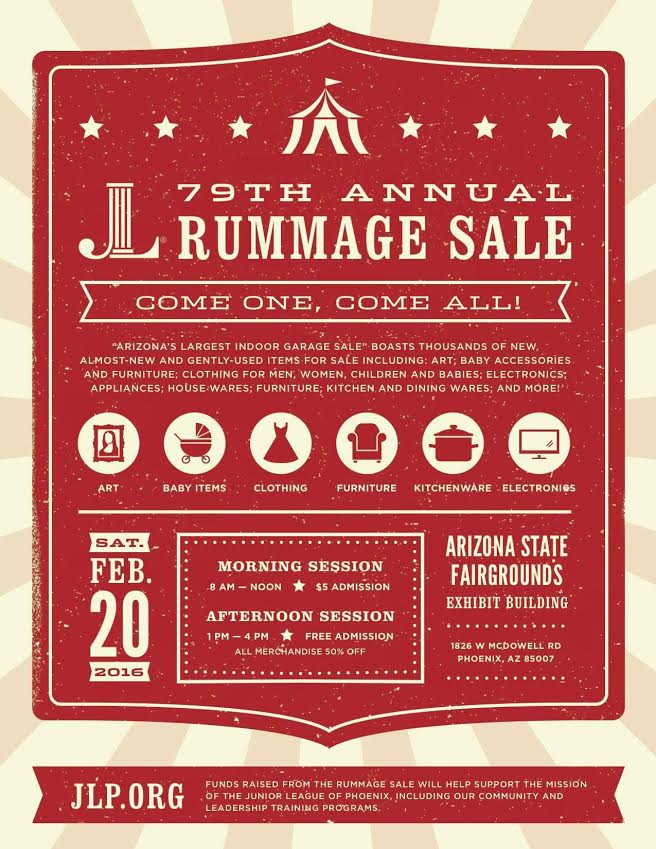 by, Liz Goldstein