2015 Valley Impact Award Nominee – Jeanette Wood
The 2015 Junior League of Phoenix Valley Impact Award recognizes individuals for outstanding leadership and contributions to the community,  as well as a passion for issues aligned with the Junior League's mission. The award was presented at the Junior League's Valley Impact Social on October 24 at the Camelback Inn.  In a series of posts, we will highlight the accomplishments and community achievements of the 2015 Valley Impact Award nominees.
---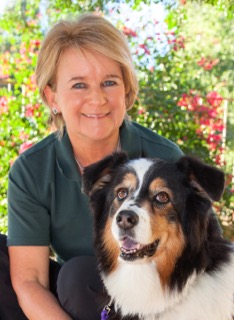 Jeanette Wood & Callie have served for 10 years as an Animal-Assisted Therapy Team, serving neglected, abused, and at-risk children.  Jeanette is a founding member of the Arizona HOPE Animal-Assisted Crisis Response.
Service History
• Jeanette and Callie have been a registered Pet Partners® therapy team for 10 years.
• They have served their local community through Gabriel's Angels, providing animal-assisted therapy/activities to:
-Children's Crisis Center in East Mesa
-Florence Crittenton
-Devereux House
• They are leaders in the Individual Intervention Program with high-risk children. This program places a highly trained therapy team with a child and his/her therapist. The canine team works as a "bridge" between the therapist and the child. During 3 months of weekly visits, the canine becomes a special and safe friend, who provides unconditional love, which helps a child open up to his/her therapist, in order to begin the healing process.
• In 2010, they became Arizona's first certified HOPE Animal-Assisted Crisis Response Team, part of a national organization of more than 120 specially trained canine/handler teams. Crisis Response Teams are the "navy seals" of therapy teams, undergoing specialized training in working with people in crisis. During the past five years, with a concerted recruitment and training effort, they have grown from a single team to six teams in 2015 and 8 more teams scheduled for training this year. Jeanette and Callie's deployments have, in part, included:
-Kelly Elementary in Carlsbad, CA after a school shooting in 2010
-Tucson memorials, after the mass shooting in January 2011
-Camp Operation Purple, serving children of deployed military in 2012
-Yarnell Hill Fire and Prescott Firefighter Deaths in 2013 (Callout Leader)
-Phoenix Flood Recovery Centers in 2014
About the Canine
• Callie is a 12-year-old tri-color Australian Shepherd. She loves people, especially children, and is always eager to put on her work vest. With her friendly face, quiet and curious demeanor and soft fur, she is a natural at animal-assisted therapy/activities.
• In her 10 years of service, Callie, along with her handler, have provided comfort and support to more than 10,000 individuals.
Notes of Interest
• Jeanette and Callie were recipients of Gabriel's Angels "Pet Therapy Team of the Year" in 2010 and are one of the longest-serving teams in the service of abused and at-risk children.
• Jeanette is a member of Arizona Voluntary Organizations Active In Disaster (AZ VOAD) and a member of Scottsdale Community Emergency Response Team (CERT).