Announcing The Junior League of Phoenix 2022-2024 EVP-Elect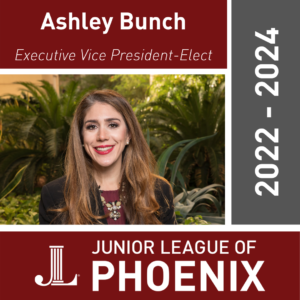 The Nominating Committee of Junior League of Phoenix has selected Ashley Bunch as Executive Vice President-Elect.
Ashley Bunch will take the reins from Elizabeth "Liz" Goldstein; her tenure will begin in June 2022 and run through May 2024.  The EVP oversees the Management Team of JLP, who manage the daily operations of the organization.
Meet Ashley Bunch
Ashley is an Arizona native and a graduate of both University of Arizona and Villanova. She joined Junior League of Phoenix in 2011, at the encouragement of her friend and past President Brandi Hunt. During her decade in JLP, Ashley has served in many capacities, amassing a wealth of knowledge and depth of experience. She was actively involved in the Valley Impact Luncheon as both a Vice Chair and Chair, and spent time on the Management Team as Development Manager and Treasurer. She rounded out the finance positions by serving as Director of Finance on the Board of Directors. Ashley also worked on the Nominating Committee, helping to learn more about our members and slating them into key roles to build the League's future.
Ashley brings a focus on Member Experience and Retention to the EVP role, and highlights a specific interest in identifying what members need to maximize their experience with JLP. This includes goals around enhancing JLP training at higher levels to continue to propel forward the powerful and driven women who make up Junior League of Phoenix. She also looks forward to continuing our conversations around Diversity, Equity, and Inclusion, with a spotlight on creating a more inclusive environment for new and existing members.
Outside of Junior League, Ashley is heavily involved in the Phoenix community. She works as a Community & Government Relations Manager for APS, has spent time mentoring with Big Brothers Big Sisters, and is a former Board Member for Teach One to Lead One. Ashley volunteers with the Phoenix Children's Hospital and has been a part of the Leukemia and Lymphoma Society's Man Woman of the Year campaign for the past 5 years in varying capacities.
Fun Facts:
In addition to daily Peloton rides, Ashley loves to travel and read.
On behalf of Junior League of Phoenix, the Nominating Committee, and the JLP Board, we are excited to welcome Ashley to her new position!
JLP is lucky to have her.