Throughout the year, JLP hosts a variety of special fundraising events and there is something for everyone. These events are a fun way to support JLP, whether it's to stay fit at a yoga event, shop 'til you drop at a shopping event, hit the town on a bar crawl or another unique, social gathering.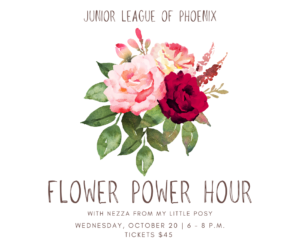 Come support the League and learn a new craft while making flowers crowns out of fresh flowers, class taught by our very own member Nezza from My Little Posy!
The event will be held on Wednesday, October 20 from 6 – 8 p.m. at Noble Bread on 2525 N. 24th Street in Phoenix.
The cost is $45 per person, which includes flower crown class, supplies and a photo by a professional photographer in completed crown. Food and non alcoholic beverages are available for purchase with a portion of proceeds (10%) going back to the League. You are encouraged to bring a friend!
Purchase tickets on Digital Cheetah here.
Contact Jennifer Mendoza for any questions at 541-720-2333
Save