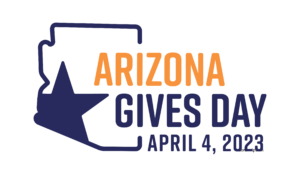 The Junior League of Phoenix is an approved nonprofit for Arizona Gives Day! Happening on April 4, Arizona Gives Day is an annual giving movement uniting nonprofits, big and small, new and established, to celebrate and increase philanthropy in Arizona. We're raising critical funds to support of our mission of building women leaders through meaningful community collaboration. Did you know that JLP's new focus area is centered around programs that empower women and children? Show your support today and help push JLP over our fundraising goal.
$25 – can help fund one girl to build confidence and leadership skills through our community partnership programs
$50 – can support a teacher in a Title I school to be equipped with creative math and science lesson planning through our ROCKETS Teacher Launch Seminar
$100 – can give peace of mind for one week to a single mother in Phoenix who is working to break the generational cycle of poverty, so that she can have gas and groceries, while building critical job skills through JLP's community partnership programs
$500 – can fund a one-day JLP leadership development training program for our members
Early giving begins March 14. You can donate now through April 4 to our Arizona Gives Day campaign to support JLP's work and new focus area of empowering women and children. Every little bit helps to make our mission possible.
Have questions? Contact our President, Kelly Kaysonepheth at jlp.president@jlp.org