Junior League of Phoenix's commitment to training provides its volunteers with invaluable learning opportunities, ranging from leadership and organizational development training to community program instruction and nonprofit fundraising skills. Through this unique curriculum, members learn how to not only manage and train volunteers, but also how to collaborate with community agencies to maximize a volunteer's impact and thus aid a greater number of disadvantaged in our community.Further, Junior League of Phoenix members use this training to go on to serve on the boards of nonprofit agencies and commissions, advocate on issues of public policy and organize model community programs that address need areas to build better communities.
Please consider a donation, rounding up your change, utilizing a Donor Advised Fund, or supporting us while you shop! Businesses, check out our corporate partnership program!

We have a "Give with Confidence" 78/100 rating with Charity Navigator.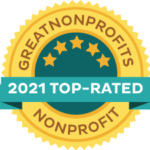 We are proud to be Guidestar Platinum.