JLP Sustainer Spotlight: Jenn Deines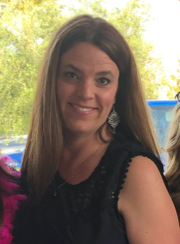 Read about how one of our sustaining members, Jenn Deines, views the Junior League and how it has impacted her life.
How many years have you been in the league? 18 years
What committee(s) have you served on? Girl Scouts, Rummage, Active Mentor, Provisional Mentor, and Sustainer Coordinator
What is your day job? I am a former second grade teacher
What is your favorite thing to do in Phoenix? Phoenix is so big with so much to see and do. Although we have lived here for 12 years, I still feel like I am exploring the city and learning about all it has to offer.
If you had an extra 8 hours in your day what would you do with it? I would probably add some of the big projects in my "mental to-do list" to my "written to-do list." I don't like to add task to my to do that aren't going to get crossed off, the extra time would let me add them and cross them off! I would also try to sleep a bit more and read more.
In your opinion what is the best thing about being a JLP member? The women you meet. I was and am still able to meet women whose paths I would otherwise never cross.
What do you miss about your active membership in the league? The camaraderie
Why did you join the JLP? I transferred my membership from Fort Collins, Colorado. I knew it would be a great way to get involved with the community and make friends.
What do you want other people to know about JLP? Other than the fact that we are "promoting volunteerism, improving our communities, and developing the potential of women," I think other people should know about the outstanding women who call themselves members of the Junior League and all that they accomplish personally, professionally, league-related, and in the community. I know "Women Building Better Communities" is juts a catchphrase. But, look at all we do, some in the League, some out of the League using League training and there is a lot of positive impact. Both as an active member and a sustainer, when I listen to or read about the lives of the members I am always in awe. JLP members have achieved some big milestones and awards, but even the day-to-day tasks and responsibilities or our members amaze me.
What is your favorite JLP memory? I really loved being a provisional mentor and sustainer coordinator because I was able to help people and build relationships.