Junior League of Phoenix gears up for 2nd Annual HealthFest on Saturday, March 10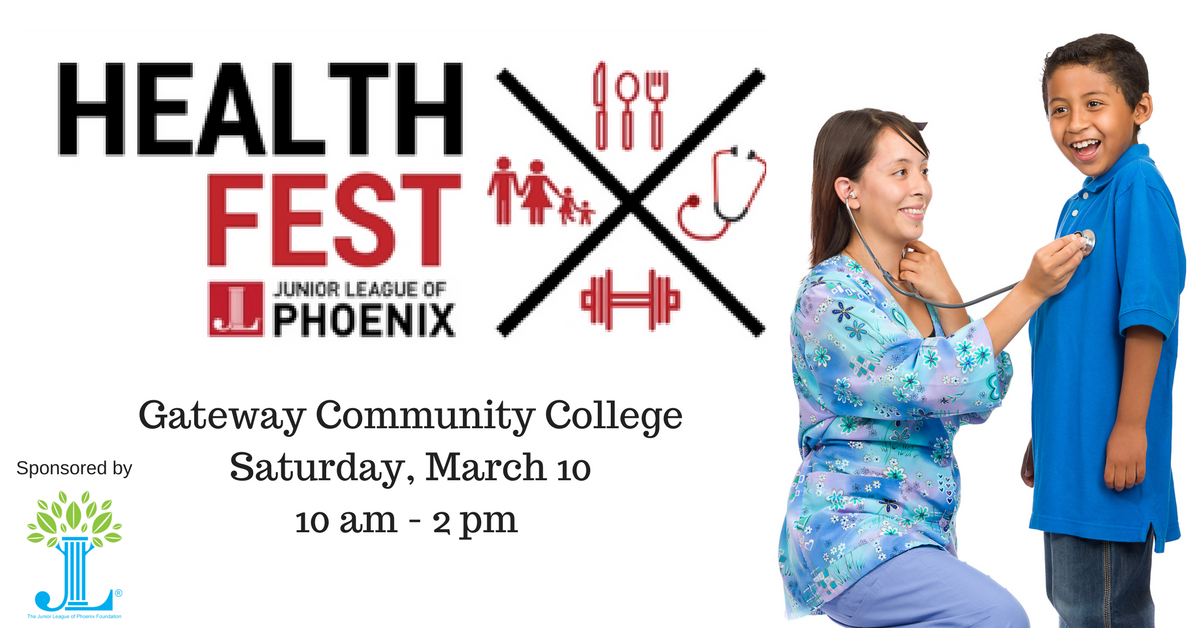 The Junior League of Phoenix is excited to host our second annual HealthFest event from 10 a.m. – 2 p.m. on Saturday March 10 at Gateway Community College, located at 108 N. 40th St., Phoenix, AZ 85034. This location is conveniently located near a Light Right stop.
WHAT IS HEALTHFEST?
HealthFest is a FREE family-friendly Health & Wellness event that features local health resources, FREE health screenings, FREE children's immunizations, education, children's activities and fitness demonstrations. The event is focused on connecting the community to local healthcare resources and providing education to empower families to make healthy lifestyle choices.
HealthFest brings together local leaders in health and wellness, including nutrition, fitness, healthcare providers and local programs. It will include access to free health screenings including prenatal ultrasounds, lung and pancreatic screenings, free children's immunizations, and free dental screenings and fluoride treatments. In its second year, HealthFest has added the opportunity to learn about the HUG clinic at GateWay Community College and schedule free physical therapy, respiratory therapy or ultrasounds. HealthFest is funded by a grant from The Junior League of Phoenix Foundation.
"The Junior League is committed to expanding access to health services in the community, as well as providing education on healthy living" said Raychel DeFranco, HealthFest Chair for the Junior League. "Phoenix Families want to know what they can do to improve the health of their family. JLP's HealthFest is a fun way to spend a day with your family learning about local health resources and healthy lifestyle choices."
WHAT TO EXPECT AT THE EVENT: 
HealthFest will feature live interactive demonstrations for the entire family, including fitness and cooking. The event will feature fitness demonstrations including kids yoga, boxing, cardio and resistance training, and more!
Entertainment Schedule:
 Welcome: 10:00 AM
Kids Yoga: 10:15 AM
Mashup (Strength & Agility, HIIT, and Mind Body) : 10:30 AM
RAFFLE: 11:00 AM
Gorilla Arrival: 11:00 AM
Zumba with Jaylyn: 11:10 AM
RAFFLE: 11:25 AM
Boxing: 11:35 AM
RAFFLE: 11:45 AM
Avidity Sister Nutrition Talk: 12:00 PM
Pound: 12:20 PM
RAFFLE: 12:35 PM
Dance Party: 12:40 PM
Family Yoga: 1:00 PM
Cooking Demo: 1:30 PM
RAFFLE: 1:50 PM
WHAT HEALTH SERVICES ARE AVAILABLE ?
The screenings below are FREE to all attendees:
–       Children's Immunizations
–       Prenatal ultrasounds, lung/respiratory and pancreatic screenings, physical therapy thanks to the HUG Clinic at Gateway Community College
–       Dental screenings and fluoride treatments to children 0-18
–       Dental screenings for adults
–       Smoke Cessation Assistance
–       Blood pressure, BMI, and Glucose tests
–       Stress Reduction
–       Biometric Measurements, skin, nails, tounge, and taste exams, GI Health, & Hormone Symptoms testing
WHO WILL BE AT HEALTHFEST?
CVS Caremark
Kids Yoga with Talia
Plus more!
And hopefully YOU!
After spending the day with an amazing array of physicians, chefs, nutritionists, fitness experts, and trainers attendees will come away with the tools and ideas need to help lead a healthier, more active, and more fulfilling life.
We hope to see  you and your family there!