The JLP Rummage Sale is 2 Weeks Away!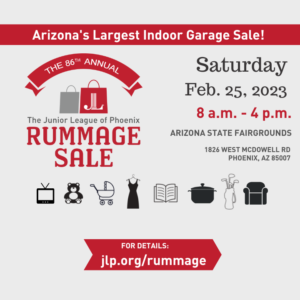 Our 86th Annual Rummage Sale is 2 Weeks Away! 
The Rummage Sale is JLP's largest fundraiser, which attracted more than 3,200 shoppers and raised nearly $103,000 in 2016. JLP's members donate and collect all sale items throughout the year and contribute more than 1,800 volunteer hours to make the event possible. Over its 86-year history, the Rummage Sale is a much-anticipated community event that has contributed to JLP's legacy of impact in the Phoenix area.
When: February 25, 2023  I  8 a.m. – 12 p.m. & 1 p.m. – 4 p.m.
Where: Arizona State Fairgrounds
Cost: $5 from 8 a.m. – 12 p.m. and FREE from 1 p.m. – 4 p.m.
Additionally, thanks to the generous support of Fry's Food Stores and the Desert Cancer Foundation, 40 FREE mammograms will also be provided for uninsured or underinsured women. Appointments will be available starting at 8 a.m. and will be held at the mobile mammography unit near the entrance to the sale.
Don't Miss Your Chance to Purchase Your Pre-Sale Party Tickets!
Join us at the Rummage Pre-Sale Party! An exclusive event for friends and family of the Junior League of Phoenix to shop the Rummage Sale before the general public while enjoying a catered meal, silent auction, and fun! Note: all rummage items are double priced at the pre-sale party.
When: Friday, February 24 I 6:30 – 10:30 p.m.
Where: Arizona State Fair Grounds – Exhibition Building
1826 W. McDowell Rd. Phoenix, 85007
At the Pre-Sale Party, you will be able to:
-Be the first to shop the 2023 Rummage Sale (all items are double the marked price)
-Buy a ticket (or several) for a chance to win one of the fabulous raffle baskets
-Fun trips available in the live auction
-Plenty of photo opportunities including the NYC skyline and a photo booth
-Jam along to your favorite tunes
-Surprise attractions sprinkled in
-Enjoy a catered dinner with wine and beer
Rummage Pre-Sale Party Ticket Options
A sampling of our Rummage Pre-Sale Party ticket options are below! Find more ticket options at jlp.org 
$60 VIP Single Ticket
1- hour early entrance at

5:30 p.m.

Catered meal with assigned seating
2 drink tickets
$40  General Admission Ticket
Entrance to the party at

6:30 p.m.

Catered meal (no assigned seating)
1 drink ticket