Phoenix Day HealthLinks 2014-2017
The Junior League of Phoenix partnered with Phoenix Day HealthLinks program from 2014-2017.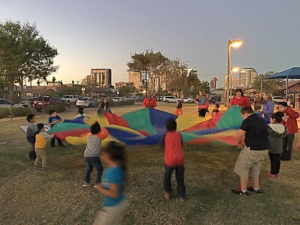 Established in 1915, Phoenix Day provides early childhood education (ages 6 weeks – 5 years) and wellness programs.  The Phoenix Day HealthLink's program provides AHCCCS eligible families with enrollment assistance and access to a variety of preventative health resources.
Our partnership allowed us to integrate within this tightknit community by providing quarterly Nutrition Nights. 
These evenings provided a healthy meal and nutrition education centered around the served meal for the whole family. The children participated in activities and exercise to get them moving and thinking about their health.  Nutrition education was presented in a variety of formats; from learning stations with parents, bingo and trivia games, to a live chef demonstration. There was also music and raffle prizes for those who participated.  These events started out small, as the word spread, and our partnership came to close, we had approximately 150 participates at each event.