FROM A SMALL SEED, A MIGHTY LEADER CAN GROW
CLO Fireside Chat featuring Courtney Klein
Lists, grit and crickets. The recipe for success?
On November 1, 2016, the Junior League of Phoenix (JLP) Community Leadership and Outreach (CLO) Committee hosted a small-group speaker meeting featuring co-founder and CEO of SEED SPOT, Courtney Klein. SEED SPOT is an organization committed to improving the odds of success for social entrepreneurs seeking to create solutions for today's most pressing social challenges.
Tuesday night's event was the second in an eight-part "Fireside Chat" series, where community leaders are invited to share their insights and experiences with JLP members that are up-and-coming community leaders as well as others interested in advancing their own leadership abilities. The CLO speaker series has been generously funded by the Junior League of Phoenix Foundation to increase available training opportunities for JLP members.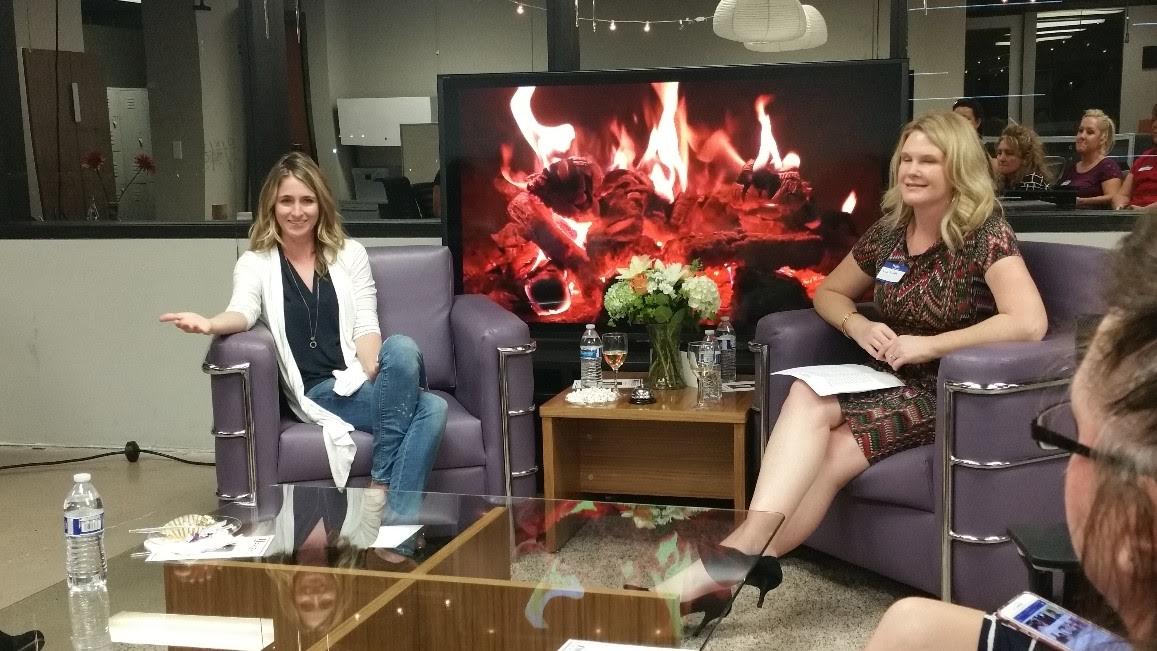 The evening began with a social hour of mingling and hors d'oeuvres during which the attendees and the guest of honor had an opportunity to interact casually before the group moved into the Fireside Chat moderated by CLO's Liz Scott. The event took place at the SEED SPOT offices in an informal setting complete with a "digital" fireside.
Courtney began by sharing her background and path to leadership; including early work she had done growing an international organization with the mission of inspiring young people to create social change—all started with $1,000 in seed money while she was pursuing her undergraduate degree at Arizona State University. She also spoke of the significance that mentorship has had on her life and career, and shared strategies for identifying and recruiting those important individuals into one's life.
The ladies in the audience were interested in understanding how Courtney balances a busy, successful career and happy, fulfilling family life. She shared her tactics and toolkit for juggling it all, and stressed the importance of taking time for self-care. Not only does Courtney value a strong work-life balance for herself, but she encourages her employees to find their own ideal life balance, and has created a culture at SEED SPOT where flexibility is accessible and encouraged for all team members. The result is a team of people who happily give much more than required to the organization—not because they must, but because they believe in the cause and feel supported and empowered.
Courtney also stressed the importance of setting clear expectations with people, and spoke to SEED SPOT's key tenets; including a statement written in the company culture guide noting that a not-my-job attitude is not tolerated in the SEED SPOT space. Regardless of rank, everyone is expected to chip in at all levels when they are able.
Then the group discussed strategies for engaging others in your mission, especially people from different generations and backgrounds. Courtney is an advocate for inclusion and believes that diversity within a team (racial, educational, national, socio-economic) creates a stronger and more creative team. She also shared an exercise utilized at SEED SPOT called "design thinking," a formal method for developing practical, creative solutions with the intention of an improved future. Design thinking identifies and investigates with known and ambiguous aspects of the current situation to discover hidden parameters and open alternative paths.
Courtney revealed she is an avid list writer and noted several poignant moments in her life when "keep/cut" lists helped her bring clarity to a situation – whether regarding friends or decisions related to various ventures. She encouraged the audience to "swim in your own lane" – which she defined as remaining focused on the tasks you are best suited for and letting others do the things that they are best suited for.
Courtney shared what she considers the biggest tool in her leadership toolkit—gratitude, in the form of handwritten thank you notes. She takes time to communicate gratitude to everyone who has impacted her each week. She makes an effort to see and respect all the people within her sphere of influence. One anecdote Courtney told was of a man named Oscar that used to work in the garage at the SEED SPOT office. Oscar was a special and valuable person, that many people would not have noticed, but in an environment where his gifts were recognized and appreciated, he was able to make a lasting impact on Courtney and the SEED SPOT organization. SEED SPOT continues to maintain Oscar's Wall where Oscar's contribution is memorialized, despite Oscar's replacement by an automated system.
Courtney closed with an anecdote about her husband's path to his current business-a cricket farm in North Carolina, where crickets are raised as a form of sustainable protein for human consumption.