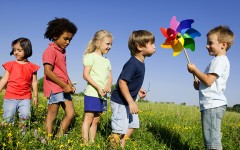 Urban open spaces are vital community assets. They not only bring communities together, but accumulating evidence suggests that both the conservation of open space and the creation of city parks are investments that produce many benefits. Aside from providing opportunities for increased physical activity and social interaction, public parks and open spaces can lessen climate, air and water pollution impacts on public health.
And each of those benefits translates into economic benefits. The Trust for Public Land's Measuring the Economic Value of a City Park System outlines ways in which cities and urban residents gain economic benefit from parks in part through increased property values and tourism, better health, community cohesion and cleaner air and water. (All these are true for parks and open spaces outside of cities as well.)
Unfortunately, the Trust for Public Land also estimates that more than 100 million people in our cities live without close-to-home access to a park. As a result, children in these park-poor neighborhoods are forced to play in streets or vacant lots or simply stay inside, continuing a troubling cycle of inactivity that has contributed to the national crisis of high obesity rates, diabetes, asthma and depression.
Open space – parks and playgrounds – has long been important to The Junior League. Over 100 years ago, the Junior League of Brooklyn was involved in turning vacant lots into playgrounds, and a survey from 1954 revealed that 123 Leagues were working to create more playgrounds. From 1981-1972, the Junior Leagues of Detroit and Birmingham addressed the restoration of Detroit's Belle Isle Park, a 982-acre open space designed by renowned landscape architect Frederick Law Olmsted.
More recently, numerous Junior Leagues have worked with KaBOOM!, a national non-profit that since 1996 has collaborated with community partners to build, open, or improve nearly 16,300 playgrounds, engaged more than 1 million volunteers and served 8.1 million kids. KaBOOM! creates great places to play, inspires communities to promote and support play, and works to drive the national discussion about the importance of play in fostering healthy and productive lives.
And other Leagues are passionate about open spaces and playgrounds as well.
The most recent signature program of the Junior League of Pelham was Woodland Park on Wolfs Lane, completed in July 2015 after five years of planning and development, involving numerous community partners. The nature-themed playground in the New York City suburb includes elements such as a grass maze, a log and stump climbing structure and a hill slide. In addition to being a much-needed recreational destination for residents, the park benefits nearby businesses in the town's downtown area.
The Junior League of Portland has been involved with Harper's Playground, the Oregon city's first and only fully inclusive and universally accessible playground. The model of Harper's Playground moves past traditional and adaptive designs which segregate and don't encourage group play, to an "inclusive" design that provides a play area that is better for everyone. Opened in 2012, the playground has become a destination for families across the city and region.
In celebration of its 75th anniversary, the Junior League of McAllen granted $75,000 to the McAllen Parks & Recreation Department for the No Boundaries Play Park. The funds purchased equipment for the Texas city's first playground designed specifically for children with disabilities, their families and friends. The site features a unique handicap accessible workout area with nine stations, three of which will be specifically designed for users in wheelchairs. When all of the phases of the park are built out, it will also feature 2.2 miles of jogging and walking trails.
---
*This article was originally published in connected, an official publication of The Association of Junior Leagues International, Inc., and has been reprinted with permission.