Reflections Under The Sun: Double-Cut Pork Chops with Apple Cinnamon au Jus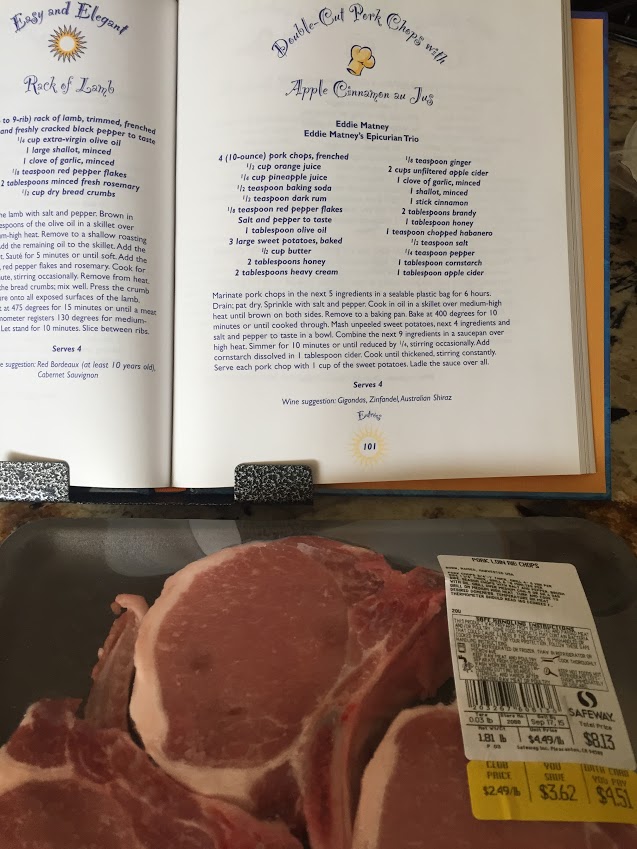 From the Junior League of Phoenix Reflections Under the Sun cookbook, I chose the recipe from Eddie Matney (of Eddie's House), Double-Cut Pork Chops with Apple Cinnamon au Jus (page 101). This recipe was a little time consuming and I would recommend on a day that you don't have work or may have a bit more time to spend in the kitchen. The marinade for the pork chops could be easily done in the morning but the potatoes take at least an hour to cook. Everything has to be done simultaneously so make sure you read through the entire recipe prior to starting so you have a good idea on timing.
The main ingredient, frenched pork chops was a challenge to find but I took a chance and asked the butcher at my local Safeway and he was able to cut some for me in enough time for me to finish up the rest of grocery shopping. The recipe calls for 4 pork chops but I made it with 3 due to my family size.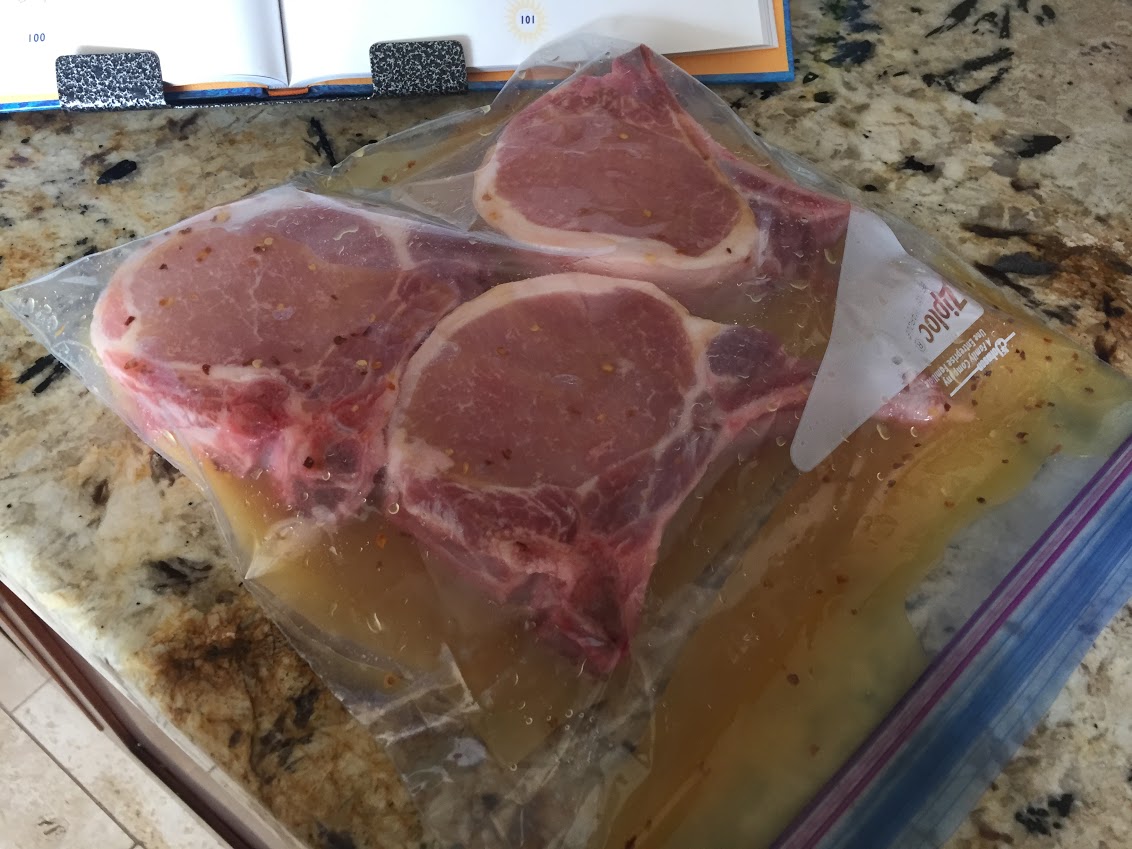 At least 6 hours before prep time, prepare the marinade and combine with the pork chops in a large plastic, sealable bag. The marinade consists of a 1/2 cup orange juice, 1/4 cup pineapple juice, 1/2 teaspoon dark rum and an 1/8 teaspoon red pepper flakes. I thought I had rum, but was wrong so had to improvise. I used Jim Beam and sugar and did not think I could tell a difference.
About an hour before prep time, pre-heat the oven to 400 degrees. Wash and dry 3 sweet potatoes and place directly on the oven rack. Cook for about an hour depending on size. Keep oven on at 400 degrees for the last step in cooking the pork chops.
After potatoes are about 15 minutes from being done, heat a skillet with 1 tablespoon olive oil over medium to medium-high heat. Also heat a sauce pan over high heat.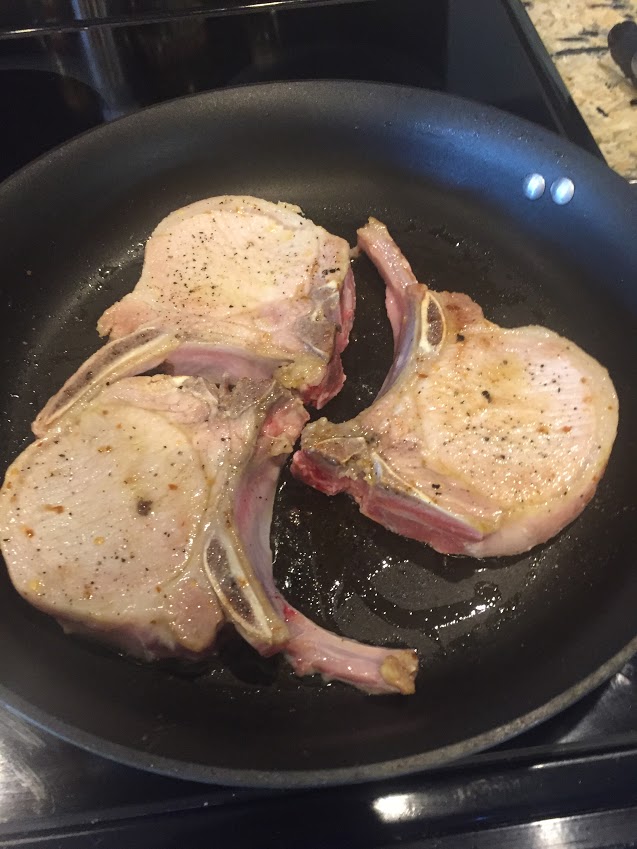 Remove the pork chops from the marinade and pat dry, do not rinse. Season with salt and pepper on both sides. Brown the pork shops in the skillet, about 5 minutes on each side depending on thickness.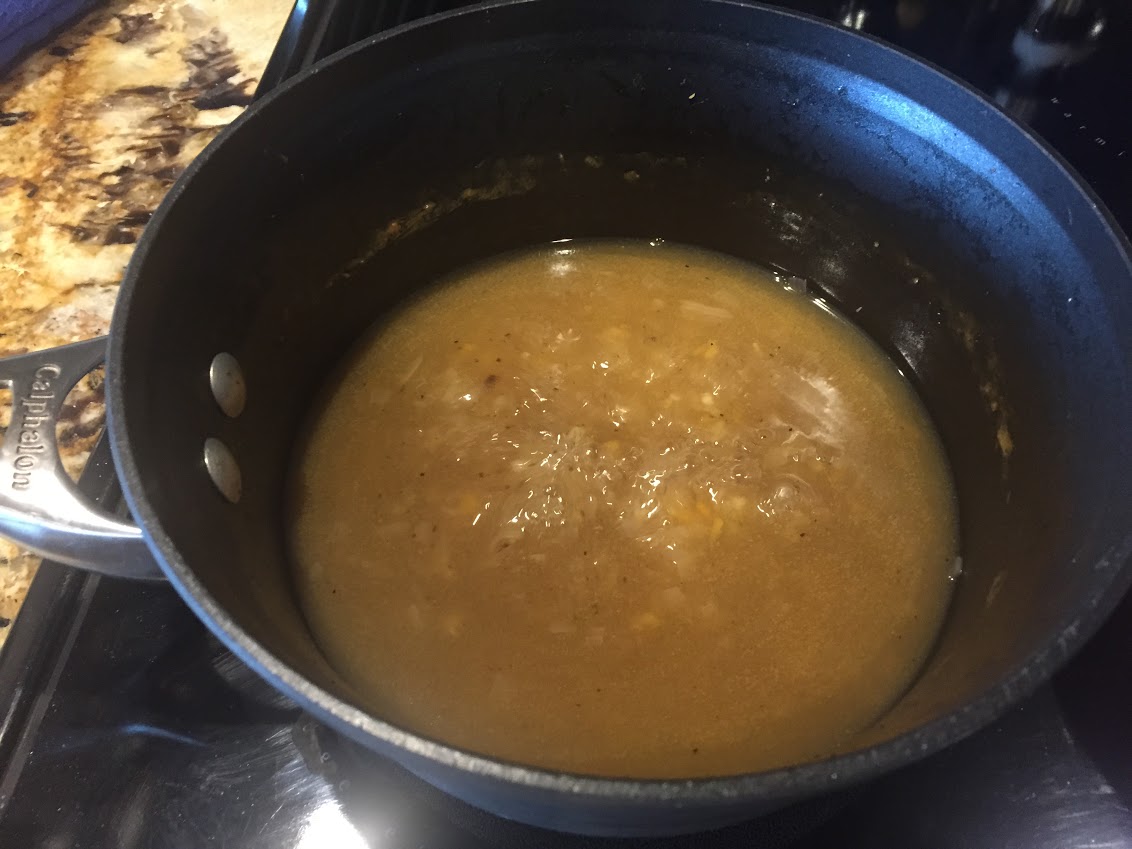 While the pork chops are cooking, combine 2 cups unfiltered apple cider, 1 clove minced garlic, 1 minced shallot, 1 tablespoon honey, 2 tablespoons brandy, 1 teaspoon minced habanero, 1/2 teaspoon salt, 1/4 teaspoon pepper, 1 tablespoon cornstarch and 1 tablespoon unfiltered apple cider in the saucepan, stirring occasionally. After the sauce has reduced by about a quarter (about 10 minutes), combine 1 tablespoon cornstarch and 1 tablespoon unfiltered apple cider and stir into the simmering sauce mixture. Stir constantly until the sauce has thickened.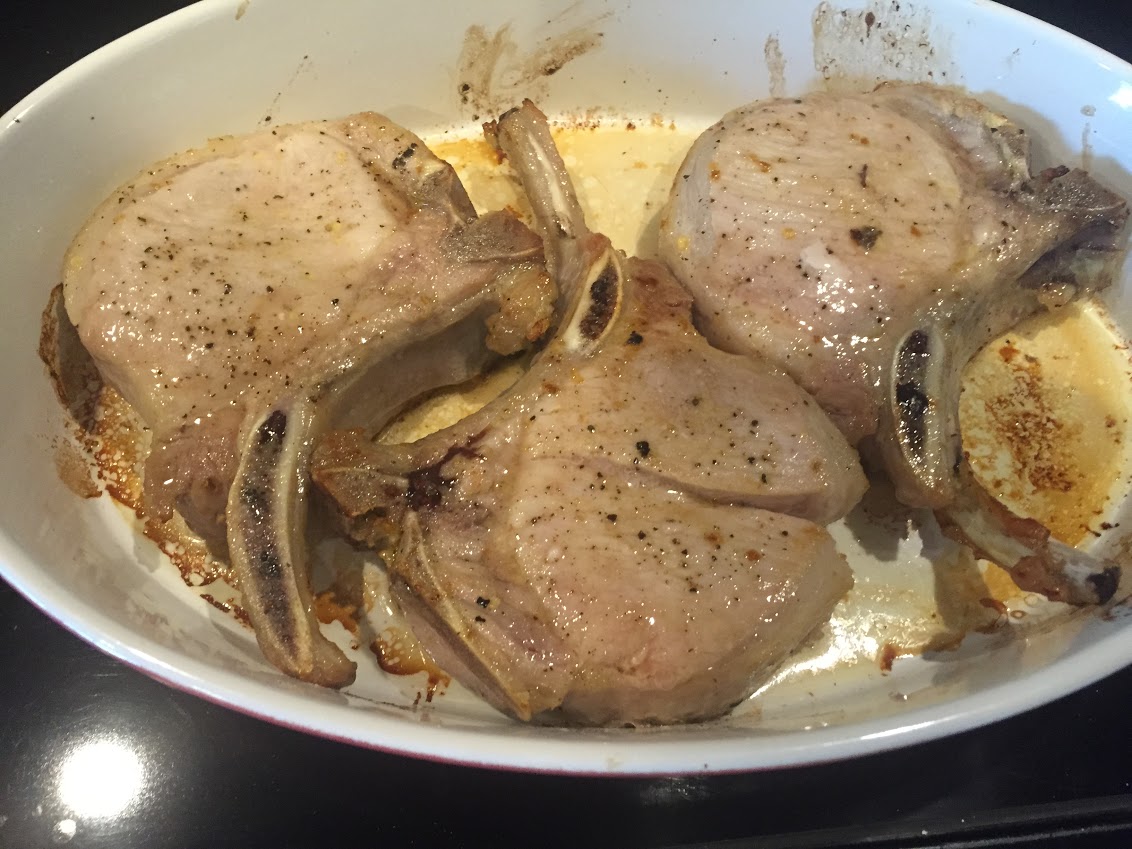 While the sauce is cooking, transfer the pork chops from the skillet into a baking dish. I sprayed the baking dish with some cooking spray first to avoid sticking. Cook in the 400 degree oven for about 10 minutes.
While the pork chops and sauce are cooking, combine the potatoes with skin on and 1/2 cup of butter, 2 tablespoons honey, 2 tablespoons heavy cream and an 1/8 teaspoon ginger, and mash. I used a hand mixer which made it super quick and easy, just don't over do it!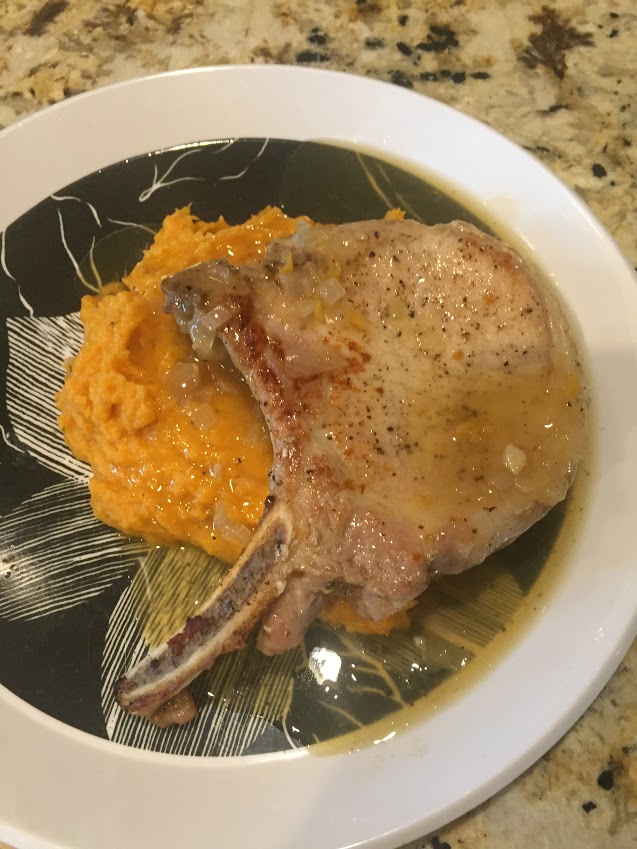 Plate the potatoes with the pork chop on top followed by a ladle of the sauce and enjoy! My husband and I really enjoyed this dish, especially the pork chops. They were juicy and cooked perfectly. My husband is from the South and takes his "comfort food" seriously so definitely a win!
By, Tammy Griffin