HealthFest and Phoenix Food Day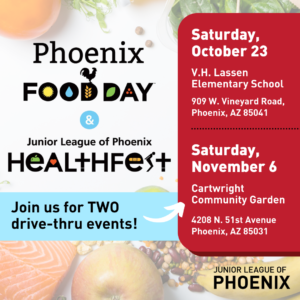 Phoenix Food Day and HealthFest is a collaborative effort hosted in partnership between the City of Phoenix, Junior League of Phoenix, Cartwright School District and many other organizations within the valley. It's geared towards bringing information, resources, and education to families on the importance and value of living a healthy lifestyle, especially now, as we continue to work together to combat the spread of COVID-19.
Due to the ongoing pandemic, we will continue to hold drive through style events this year. New for this year, we will be holding two separate events! Our first event will be on Saturday, October 23rd at V.H. Lassen Elementary School and our second event will be held at Cartwright Community Garden on Saturday, November 6th. Last year's event attracted over 2,000 community members. This year, we hope to serve over 4,000 community members!
We will be giving away bags filled with health and wellness resources and donated goods. We will also be hosting a YouTube channel to display wellness tips, cooking and garden demos, fitness routines, and more. All this requires help from the community and groups like you.
SaveSaveSaveSaveSaveSave