HealthFest and Phoenix Food Day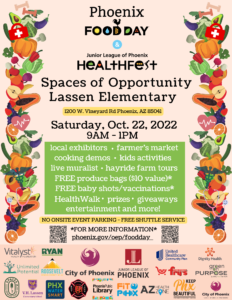 Phoenix Food Day and HealthFest is a collaborative effort hosted in partnership between the City of Phoenix, Junior League of Phoenix, Spaces of Opportunity, and many other organizations within the valley. It's geared towards bringing information, resources, and education to families on the importance and value of living a healthy lifestyle.
This past year, Phoenix Food Day and HealthFest was on Saturday, October 22nd at Spaces of Opportunity (1200 W Vineyard Road, Phoenix, 85041).
This year's event included 50 local exhibitors, a farmer's market, gardening & cooking demos, kids activities (including hay rides), farm tours, prizes, giveaways, music and more! All this required help from the community and groups like you.
SaveSaveSaveSaveSaveSave