HealthFest and Phoenix Food Day
Join the Junior League of Phoenix and the City of Phoenix for an Unforgettable Event!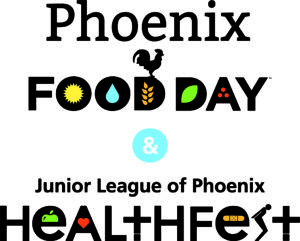 JLP has joined forces with the City of Phoenix to create the city's largest free health and wellness event. The event that provides much-needed food services to food desert areas in Arizona. This event brings in chefs to host cooking demos, and students and schools for gardening demos, in order to promote affordable and healthy meal options to attendees. HealthFest takes a wellness approach, providing free medical services to attendees including child immunizations, wellness checks, dental cleanings, ultrasounds, mammograms, and much more. With a variety of partners, it is sure to be a great event!
Last year's event, on Oct. 26, 2019, brought a combination of both food and health demos, wellness events, and medical services. There were many giveaways, cooking demos, mascots, interactive performances, and the famous 'Apple Crunch' at noon.
SaveSaveSaveSaveSaveSave