Description
DRIVE THRU
8TH ANNUAL TOUCH-A-TRUCK
NOV. 7, 2020
9 a.m. to 3 p.m.
Location:
Paradise Valley Mall
4568 E Cactus Road
Phoenix, AZ 85032
DUE TO COVID-19 AND SOCIAL DISTANCING ADHERENCE, THE 8TH ANNUAL TOUCH-A-TRUCK WILL BE DRIVE THRU ONLY. THE SAFETY OF OUR FAMILY ATTENDEES, VOLUNTEERS, AND VENDORS IS OUR NUMBER ONE PRIORITY AND IN ORDER TO DELIVER A SAFE EVENT, THIS YEAR'S TOUCH-A-TRUCK WILL TAKE PLACE IN A DRIVE THRU FORMAT.
IMPORTANT SAFETY REMINDER: Face coverings will be required for anyone in the vehicle who is interacting with JLP volunteers and Touch-A-Truck participants. Tickets MUST be PRE-PURCHASED online.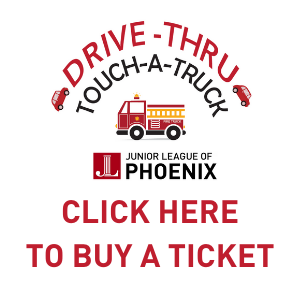 WHAT:   Hosted by Junior League Phoenix, the 8th Annual Touch-A-Truck event is a family-friendly event that offers children a unique opportunity to explore a variety of machinery. Our 2020 Drive Thru experience will allow children to see and learn about their favorite big trucks and heavy machinery from the safety of your vehicle. Vehicles on display routinely include construction trucks, emergency responders, tractor trailers, and utility trucks.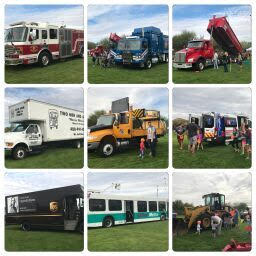 WHO:This is a family-friendly event.
*We are pleased to be offering a "horn-free hour" from 9:00am-10:00am for children with special needs and sensitive ears. During the horn-free hour, attendees will be able to enjoy the event without horn honking or disruptive noises.
WHY:  Junior League of Phoenix is an organization of women committed to promoting voluntarism, developing the potential of women, and improving the community through the effective action and leadership of trained volunteers.  All proceeds from Touch-A-Truck benefit local community programs and training sponsored by The Junior League of Phoenix.  For more information on these programs, visit the "Community Impact" page.
SPONSORSHIP:   Details on the Touch-A-Truck Sponsorship Packet are located here.
FREQUENTLY ASKED QUESTIONS:
THE 2020 DRIVE THRU FORMAT
How long does the Drive Thru Touch-a-Truck experience take? We anticipate Drive Thru Touch-a-Truck will take between 30 minutes and an hour.
How will my child "explore" the trucks? While driving through the event, children will be able to see the vehicles, trucks, and equipment up close from the car. We encourage you to have as much fun from the safety of your vehicle as you would like! A link to audio with information on our vehicles, trucks, and equipment will be provided upon entrance to the event so that during the drive thru experience children are able to learn more about each vehicle. We encourage you to connect your phone to audio in your vehicle to hear all about the vehicles, trucks, and equipment.
Will we be allowed to get out of the vehicle? For the safety of participants and volunteers, all participants must remain inside their vehicles.
What are the limitations of a ticket purchase? Each ticket purchase ($25 per vehicle) is valid for one vehicle to enter Drive Thru Touch-a-Truck. Bring your largest vehicle and stuff as many family members in as you see fit!
What is included in our ticket purchase? Entrance of 1 vehicle to the event and access to our audio clips for your children to explore our vehicles, trucks, and equipment.
May I drive through multiple times? Due to time constraints and ticketed time slots to allow as many families as possible to see this event, each ticket will only allow for one entry to the event.
Will food and drink be available for purchase? Food and drink are available for pre-purchase.
Will birthday party packages be available this year? Yes, please click here.
Due to the changing nature of COVID-19, we will update these FAQs as necessary. Please check back occasionally for new information.
QUESTIONS:  Please contact the Junior League of Phoenix at jlp.touchatruck@jlp.org for more information.